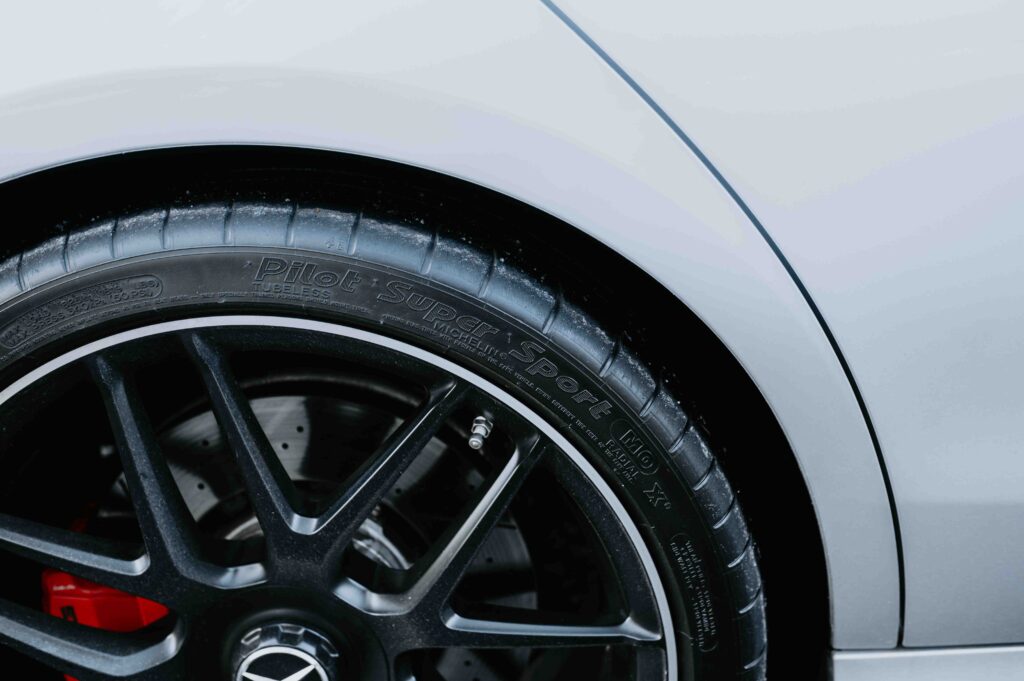 Have you ever considered using tire polish, also called tire dressing, for your car? It's a great way to keep your car looking more attractive. Yet, it does come with some downsides as well. In this article, we will explore some facts that you should know.
The main reason for applying tire dressing is to make the tires shine like brand-new tires. A fresh coat of tire polish can give your tires a "wet look" that many people find appealing. Tire dressing can extend the life of your tires, and it contains UV inhibitors that can help protect your tires against sun damage and fading.
However, did you know that not all types of tire dressing are safe for the tire, especially for long-term use? It is because some of the tire dressing contains degenerative petroleum distillates. It causes early tire damage and produces tire slings. The tire sling occurs when the car polish gets flung onto the car's fenders and wheels due to the spinning of car tires that harm the car's paint. Moreover, when the type of tire polish is an aerosol spray can harm the brakes. Therefore, we have to look at the formula of the tire dressing carefully before we use it.
There are two majority types of tire dressings regarding the formula they use: water-based and solvent-based tire dressings.
Water-based Tire Dressing is non-toxic, milky white, and slick rather than sticky. The tire soaks up most of the water-based dressing rather than remaining on the surface and possibly splattering paint with its residue. The advantage of this type of tire dressing is that it is environmentally friendly and won't harm the car's paint. Usually, water-based dressings contain UV filters, which help preserve the tires.
The downside of water-based tire dressing is its longevity of the wet look appearance. It has a shorter time to fade away than the solvent-based tire dressing.
Solvent-based Tire Dressing
Products made from solvents are transparent and occasionally tinged blue. Solvent-based tire dressing typically contains oil and hydrocarbon silicon substances. The shiny appearance has last-longer result than the water-based one. However, it is not environmentally friendly, and it is stickier in comparison with the water-based dressing. Therefore, it attracts dirt and dust that can be difficult to remove later.
Here are some tips for tire dressing. Wash and dry your tires before applying the tire dressing. Avoiding using gel form tire dressing can reduce the risk of producing tire slings. Apply tire dressing properly, do not apply too much, and let dry after application. Wipe them immediately when tire slings occur.
References
Furman, S. (2021, August 30). What is Tire Sling: Phenomenon Explained. Retrieved from www.thevehiclelab.com: https://www.thevehiclelab.com/what-is-tire-sling/
Hill, T. (2022, June 27). Ultimate Guide to Tire Cleaning and Detailing. Retrieved from The Art of Cleanliness: https://www.theartofcleanliness.com/automotive/guide-to-tire-cleaning-and-detailing/
Kayne, R. (2022, November 30). What is Tire Dressing? Retrieved from www.wikimotors.org: https://www.wikimotors.org/what-is-tire-dressing.htm
Redding, C. (2022, September 26). Tire Dressing – A Complete Guide. Retrieved from CarShtuff: https://www.carshtuff.com/post/tire-dressing